DESCRIPTION
With a gel base ideally suited as a daily moisturizer and protector for oily, acne, and impure skins, Growth Factor Gel is not as rich as the cream and absorbs into the skin quickly; calms inflamed and irritated skin, reduces damage from free radicals, and ideal for any acne program.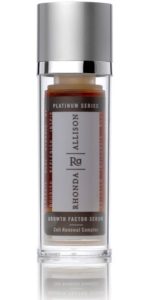 DESCRIPTION
Growth Factor Serum contains a higher concentrate of Epidermal Growth Factor and provides a silky sensation as it is massaged into the skin. The additional antioxidants and essential oils boost up the nutrient support. Growth Factor Serum expedites healthy tissue regrowth and balances moisture content for drier skin types, while protecting from free-radical damage. The intensified antioxidant profile provides ultimate protection from cellular degradation while nourishing the skin with vital phytochemicals that normalize the skin. Growth Factor Serum is a must after any peeling treatment.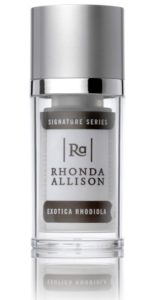 DESCRIPTION
A luxury "treatment" moisturizer, Exotica Rhodiola is an exotic, healthy-aging treatment therapy. The age-reducing formula is a blend of very exotic, superbly developed specialty extracts that have potent youth-oriented properties. Targeting inflammation, strengthening the protective barrier, providing cutaneous antioxidant action, and providing nourishment for skin cell renewal, Exotica Rhodiola is a perfect choice for rosacea-prone and sensitive skins.